Bebeanie Set – Winter Set (Mask, Hat, Scarf) 🎄Early Christmas Hot Sale🎄
Last Minute
- Sale end in
00h 07m 36s
Limited stock! 7408 people are viewing this and 5246 purchased it.
Description
FEEL WARM AND COZY THIS WINTER WITH THIS SET OF HEAD ACCESSORY, A BEANIE, SCARF AND FACE MASK ALL IN ONE
3-in-1 Winter Scarf Set is a set of beanie, scarf and mask. They can keep you warm from head to neck. It comes with premium-quality acrylic fibers. Gorgeous comfort and warmth in cold winter.
ONE SIZE FIT ALL
It is extremely thick and warm. It is also ultra-stretch and suitable for all sizes. Perfect for the winter season.  Keeps chill away in cold days. Enjoy warm winter!
3-IN-1 DESIGN
Hat scarf mask, warm three pieces. Keep your head, ears, face and neck warm.
WARMTH AND COMFORT 
With premium-quality acrylic fibers. Gorgeous comfort and warmth to your feet in cold winter.
SIDE BUTTUN DESIGN
Holds your mask in place without putting pressure on the ears with a unique side button design. Use it with our knitted face masks or any surgical masks. Removable Mask and movable from up and down face mask, enabling versatility and extra options for warmth in different needed areas.
  PLUSH LINING
Extremely thick and warm. Keeps chill away in cold days. Enjoy warm winter!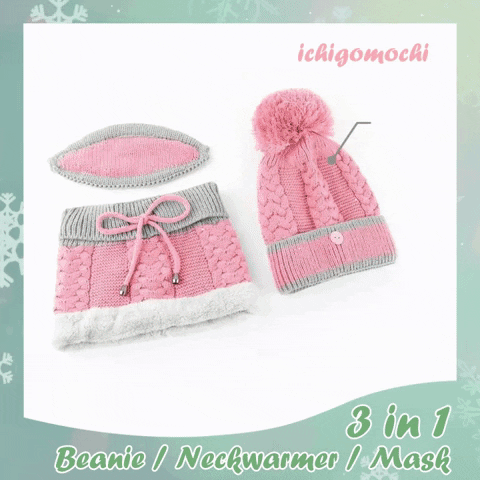 WHY CHOOSE THIS WINTER SET?
High Quality material:  Soft plush with better heat retention

Dual Layer design : Super thick and chunky acrylic knit construction to keep you warm

Matching color of the three pieces (Mask,Hat,Scarf) so that you don't have to buy  from different places and pay more for the 3 elements

Convenient and easy to carry

Perfect Gift

Unique design that will attract compliments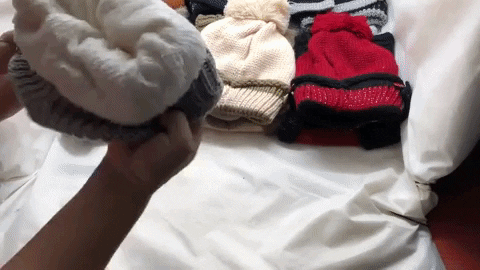 SPECIFICATIONS
Material: Acrylic fibers
Size: One size fit all
Color: Beige / Pink / Red / Orange / Black
---
Reviews
---
Love it. Had many great comments. Love, love ❤️
---
Milagros M.
Verified Buyer
It's been awhile since I've been looking for something like this, I bought a lot of bonnets and this one is the best of them all! Thank you Little Cozy 🙏 Great is that I post my photos at Facebook and my friends are commenting looks good and toasty warm 😊😉👍
---
I love it! It's perfect for walking my dog on cold days! I got pink for me and 3 other colors for my kids as gifts.
---
Ordered two and received them! Seems like a good quality.
---
Maryjane S.
Verified Buyer
Very good quality, thought the color red would be a true red but its okay. Would buy again
---
I love this these they are lovely and warm I always have mine on
---
The hats and scarf are wonderful. Soft, warm and well made. The width of the mask is a little short, so that full coverage nose to chin is not possible, but since we will be using these outside and will not be in close contact with others the mask is OK.
---
i like it especially he mask
---
Natasha R.
Verified Buyer
Verified review My mom,my daughter,motherinlaw,sister-in-law all love them.
---
Good. It is very beautiful. I liked the material.
---
I love this. It is so warm and comfy. I don't normally wear hats, but I'm so glad I purchased this one as it is stylish and warm. Best purchase I have made in a long time. 😊
---
It is so comfy and cozy! I now will go out in the cold!
---
Love wearing it. Received compliments!!! Very warm!
---
Yolanda L.
Verified Buyer
Very warm I love it And I highly recommend
---
I haven't had an opportunity to wear the hat yet but looks very warm. I have uses the gloves. They were very warm and fit great.
---
Bynthia m.
Verified Buyer
Warm and fits good. Quality is nice.
---
I love the whole idea of the hat with attached mask. It is very smart looking and with the cowl it is so warm. Softest set I have ever had. Fantastic gift!!
---
Great as gifts! Got one for my boy :D
---
Very pleased with the quality and my grandchildren loved them and ready for winter.
Verified Buyer
Very pleased with the quality and my grandchildren loved them and ready for winter.
---
Kathryn W.
Verified Buyer
Is there any way to just buy the pattern?
---
Kathleen G
Verified Buyer
I ordered two sets of the cozy hats with the face cover and neck scarf. They were exactly as pictured. With all the scam sellers on FB, I was a little concerned but they arrived promptly and just what I was hoping for. I am gifting them to my two nieces for Christmas. I am sure they will love them.
---
This is so soft. I can't wait to wear it outside. Thanks so much. I'm gonna order another one.
---
Maureen M.
Verified Buyer
This is a Christmas gift but it surpassed my expectations. The wool is thick and the color is lovely (I'm keeping the gloves for myself). I'm sure this is one gift that will be appreciated!
---
Fits beautifully, great quality and looks good. Love the attached mask.
---
Milagros M.
Verified Buyer
I bought it for my daughter and she just loves it says it's so comfortable in the mask attached is a great idea
---
Marlene O.
Verified Buyer
Red with black ok winter mask hat ok
---
1
2
3
4
5
6
7
8
9
10
11
Show More
Thanks for your review! Your review will be verified by the administrator!
Shipping
& Returns
Covid 19 customer and shipping updates
We stand by our product quality. If you are not pleased with your purchase, we offer a 7-day quality guarantee on all products. If you have any additional questions or would like to request return, refund, exchange, feel free to contact us at [email protected].
Learn more about our return, refund, and exchange policies here.
Order processing & shipping time within 3-5 days, and delivery time within 14-21 business days from shipping date. During high volume periods, the processing time may take an additional 2-4 business days . Learn more about shipping FAQs here.
On average, the shipping fee is $4.95 per unit. However, shipping fee may vary due to promotional activities. Please visit the checkout page to obtain your final shipping charges.
One of the basic reasons why we incorporated Happy Shop is to provide the trendiest, best quality products to our customers with the lowest possible prices. We have a very diverse product selection that can appeal to every customer's need.